Top Quality

Delivery throughout Europe

Extensive range

Free advice and explanation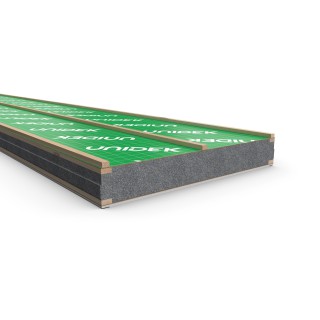 Kingspan Unidek Aero De Luxe
The Kingspan Unidek Aero De Luxe roofing sheet is an all in one roofing sheet. The well-insulated roof panel is provided with fire-retardant EPS Platinum, which is fire-retardant and has 4 integrated stiffeners. The outer plate is provided with a 3mm chipboard with the well-known green foil from Uniedek. The Kingspan Unidek Aero is equipped with 3 battens of 20mm high and 30mm wide. The inside is fitted with a 12mm glass fiber plasterboard sandwiched between two wooden stiffeners. The inside is finished with a 3mm white chipboard. This way the inside is immediately nicely finished. The Kingspan Unidek Aero plate De Luxe is standard available in 4000mm to 8000mm. The chamfered corner can be supplied from the factory. The Rc values ​​range from 6.2 / 6.45 and 7.45. The Unidek Aero De Luxe is available in 3 different thicknesses 209 - 216 and 247mm.
Unidek and the Kingspanshop can help you make a complete installation plan integrated with rebates for any skylights. We are happy to help and advise you about the possibilities with Kingspan Unidek
---
Populaire Kingspan Unidek Aero De Luxe
Sorry for the inconvenience.
Search again what you are looking for