Top Quality

Delivery throughout Europe

Extensive range

Free advice and explanation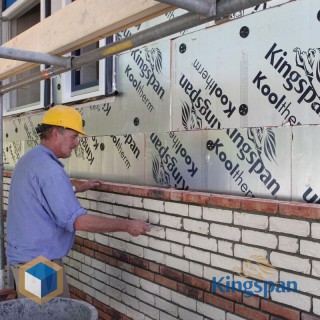 All Kingspan cavity wall
The high-quality cavity wall insulation Kingspan Insulation are very suitable for isolating your passive or energy-neutral home. The products in this category are the high quality Kooltherm K8 cavity wall plate or Kooltherm K8 Plus with a Lambda value from 0,020 W / M K, this means to you maximum isolation from a small thickness at a competitive price. The Therma TW 50 Cavity wall insulation PIR is a very good cavity insulation. With both the Therma TW 50 cavity wall plates and Kooltherm K8 or Kooltherm K8 Plus cavity wall board you are assured of very high insulation values at a small thickness. You save valuable space when compared to traditional insulation.
In addition to the excellent insulating properties of the wall cavity board K8 Kooltherm rigid phenolic foam board the Kooltherm K8 plate consists of a fiber-free core and features the DuBo Keur. The Kooltherm K8 cavity wall board is one of the few insulation with this label. Only the most environmentally friendly materials feature this DuBo mark!
By enduring thermal efficiency, good insulation properties and low weight, the Kingspan Insulation Cavity wall board easy to handle and assemble. Kingspanshop assured that Kooltherm K8 / Therma TW 50 as the Kooltherm K8 cavity wall insulation board are ideal for durable renovations, yóur construction project to energy-neutral home or your passive house project. Kingspanshop choosing high quality and maximum efficiency.
Request a quote on large quantities. We are pleased to help and advise you!
Pay less and sustainably enjoy doing at Kingspanshop!
---
Populaire All Kingspan cavity wall
Sorry for the inconvenience.
Search again what you are looking for